As we convened with our global oncology colleagues and look toward the future of cancer research at ASCO 2017, Verilogue analysts have taken a last look at 2016 to see how two basic conversation "vital signs" have evolved in the European (and UK) oncology visit.
Vital Sign 1: Conversation Length
One of the most notable trends we see across our EU & UK oncology database is the significant increase in the time patients spend with their Oncologist. While we're hearing that HCPs are spending less and less time with their patients, conversations recorded over the past 4 years with Oncologists in Europe show an increase from an average of 4:32 in 2013 to a whopping 19:49 in 2016.
So why the big shift?
Not only has the increased number of available therapeutic options given patients and Oncologists more to talk about, but patients are coming in to the office with different types of questions and HCPs are making strides toward a more patient-centric approach to engage in answering those questions.
Vital Sign 2: Patient Participation
When we look at patient participation "floortime", or the proportion of the total visit that a patient is actually speaking, we see that that hasn't really changed over the years. On average, cancer patients occupy slightly less than a third of the conversation. But, just because patients don't occupy any more of the conversation than they used to, doesn't mean they don't engage differently than they used to. Analysis of patient questions in the UK indicate that "tests and scans" is an emerging area of engagement. This is a topic that was not present at all in conversations collected during the past 2 years, but now accounts for nearly a quarter of the questions patients asked their Oncologists in 2016.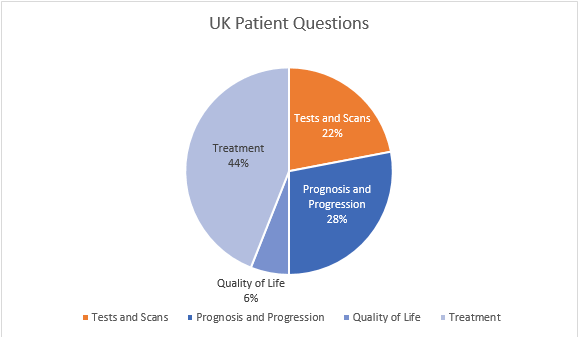 When you look at the questions themselves, we see patients taking ownership of their scans by using words like "my," and very often making connections between "the numbers" and their implications for treatment next steps and disease progression:
"When is my next scan?" – Breast Cancer Patient, UK
"What about my CA-125?" – Ovarian Cancer Patient, UK
"Do these numbers suggest that the Abiraterone isn't having an effect on the disease?" – Prostate Cancer Patient, UK
So, what does this tell us? At their core these changes show us that the landscape of the dialogue may actually be shifting to be more patient centric. Patients are speaking more meaningfully by asking questions that show their involvement and ownership of their disease, and physicians are spending more time overall engaging in that discussion.
Want to hear more about the changing oncology landscape? We'll also be exploring the use of metaphors in oncology- stay tuned!
---
Have you noticed any changes in how you ask questions in the exam room? We'd love to hear from you!
---
Verilogue offers fly-on-the-wall access to candid healthcare conversations between patients and their healthcare providers. Verilogue's trained linguists analyze these dialogues using their expertise, and provide unique insights for our clients. Reach out with questions or comments via the below form!.